Ibrahim Tuqan and the making of "Mawtini"
II. Early Mandate Period
Paragraph text
On a cool night in late 2015, in the heart of Istanbul's busiest shopping district, tens of young Syrian refugees gather in memory of the 200,000 lives lost in their country in the four years it has been engulfed by violence. They wave photos of drowned Syrian refugees in the air – men, women and children who had died in the Mediterranean trying to find refuge in Europe – and they sing a song whose lyrics they all know by heart, written in Lebanon over eighty years ago by the Palestinian poet Ibrahim Tuqan.1
It is unclear exactly when Ibrahim Tuqan  wrote the lyrics to the anthem Mawtini, a title that translates into English as My Native Land. All we know for certain is that he wrote them while he was a student at the American University of Beirut in Lebanon between 1924 and 1929.2 The words were put to music by his good friends, the Lebanese composers Ahmad and Muhammad Flayfel - better known in Beirut cultural circles as The Brothers Flayfel.3
Jordanian singer/ musician Hani Mitwasi sings "Mawtini"
Tuqan and the two brothers worked on various projects together, including an anthem about Moroccan resistance to French and Spanish colonialism.4 The brothers also worked with other Arab writers, producing a canon of anthems inspired by the ideals of Arab nationalism and anti-colonialism. But as their songs became more popular, they became victims of their own success. Their work to popularize anti-colonial sentiment was frowned upon by the French High Commissioner, especially because they were employed by the French mandate government as music teachers. On the order of the French High Commissioner, Ahmad and Muhammed were removed from their teaching positions, though they were reinstated several years later.5
As for the poet, he died a tragic death in 1941, when he was only 36 years old after finally succumbing to the ill-health that dogged him throughout his life. He left behind a three year old son, Ja'afar, who later wrote,
"To me, my father was an abstract character. I know him from the photos that occupy the corners of my house. I know his voice from an old recording of him on the Palestinian Broadcasting Service…. Through this abstract knowledge of Ibrahim, I was able to form an image of this man, like a mosaic made up of small stories, each beautiful in its own right, and each collection of them telling a sequence of events."6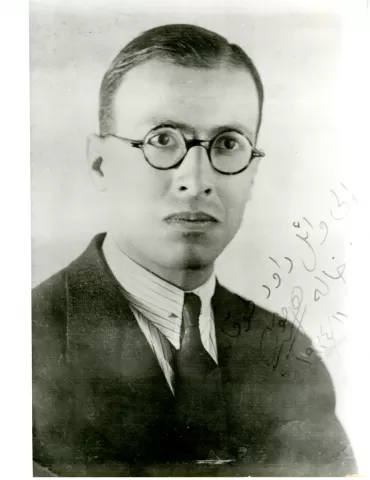 As a child, Ja'afar attended school in Nablus, the same school that his father had both studied in as a child and later taught in after graduating from university. Every morning, he joined the other children at his school in lining up to sing Mawtini – the words written by his father, a piece of the mosaic ever-present in Ja'afar's life.7 Mawtini remained Palestine's unofficial anthem from the 1930s until 1972 when the Palestinian Liberation Organization adopted the song Fida'i as an official national anthem.
Today, Mawtini is widely sung in Palestine, throughout the Palestinian diaspora and across the Arab world. It is also the national anthem of Iraq, sung by Iraqis not only at official events but also at anti-government protests. It is an anti-colonial anthem put to music by composers in the employ of French colonial authorities, a national anthem that transcends national borders - written in Lebanon with Palestine in mind and sung by people from Turkey to Algeria. The story of Mawtini is as full of contradictions as that of the Arab region itself, torn apart by colonialism and violence and looking for an anthem to inspire the dream of a better future.
Algeria - When I first started school in 1985, I had been memorizing several Palestinian anthems from listening to the radio program Voice of Palestine that my father followed regularly on the Algerian National Broadcasting Service. One of these was Mawtini, which I memorized by heart because it found a special place in my ear and heart. The teacher asked us: "Who has memorized the national anthem?" I was the most enthusiastic, so he called on me and I launched into an enthusiastic performance of Mawtini, voice raised and eyes closed, unaware that the teacher was correcting me: "This is the old Palestinian anthem, I am talking about the Algerian national anthem Qisman", as a wave of laughter surrounded me. In the evening, as I headed home, I climbed onto a large rock and started to sing Mawtini, while other children gathered around the rock singing the Algerian national anthem. It must have been one of the rare moments that the two songs merged into one, a spontaneous embodiment of the connection between the two peoples.
Abed al-Razzaq Boukuba, Algiers, Algeria.
SELECTED BIBLIOGRAPHY
2al-Tarifi, Yusif 'Ata. Ibrahim Touqan: Hayatuhu wa shi'ruh [Ibrahim Touqan: His Life and Poetry]. Al-Dar al-Ahlia Press, 2008.
3Ibid.
4Ibid.
5Zibawi, M. al-Akhawayn Flayfel wa al-Lahn al-Tha'er [The Brothers' Flailfel and Melody in Revolt]. An-Nahar, October 11, 2014.
6al-Tarifi, Yusif 'Ata. Ibrahim Touqan.
7Ibid.