Image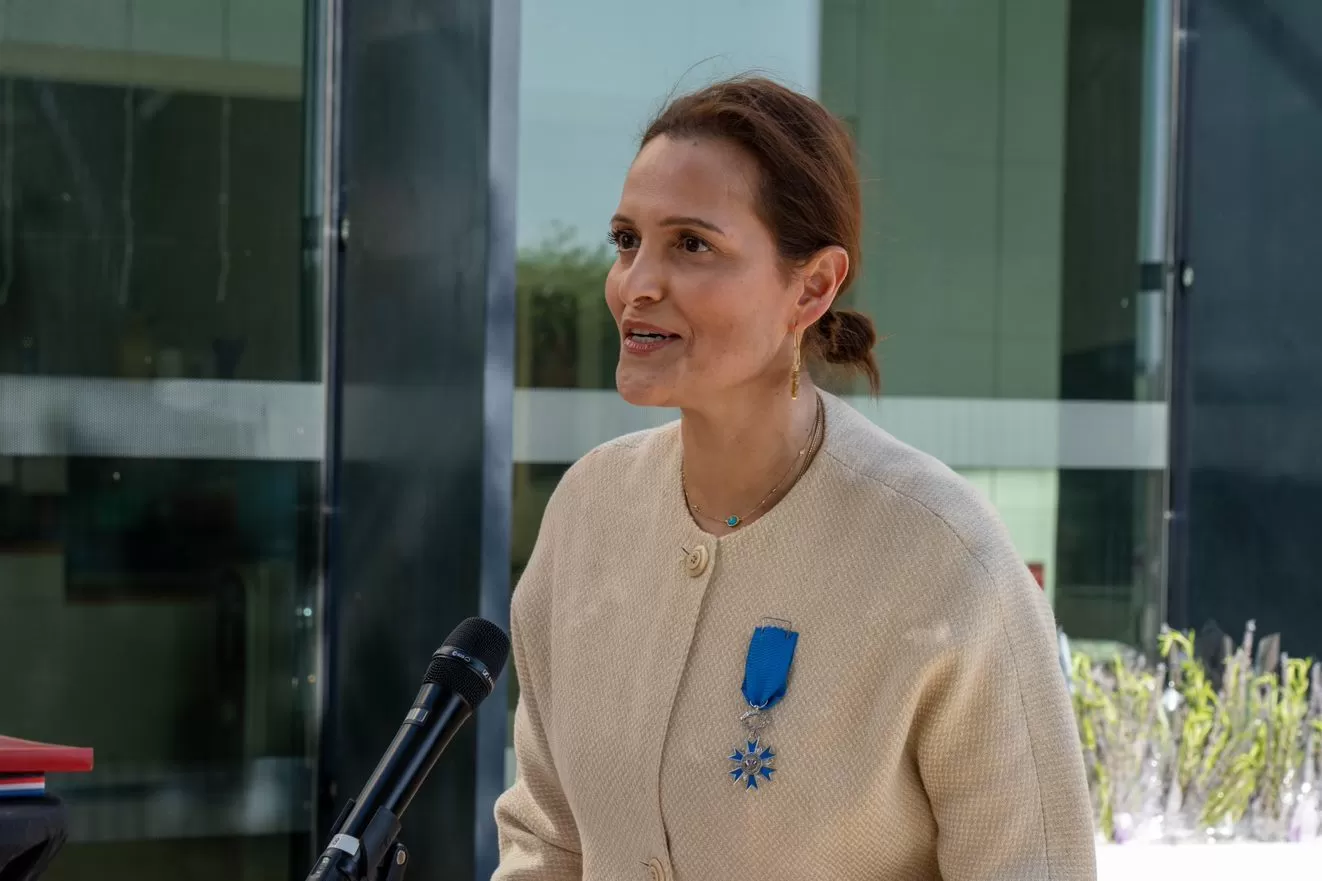 Birzeit: The French Consul General in Jerusalem, René Troccaz, bestowed upon the Director General of the Palestinian Museum, Adila Laïdi – Hanieh, the National Order of Merit with the rank of 'Knight', following a decision issued by French President Emmanuel Macron.

The National Order of Merit was established in 1963 by President de Gaulle and is awarded annually by presidential decree to French and international recipients in recognition of their excellence and achievements in various fields.

According to the official award letter, this honour comes in recognition of Laïdi-Hanieh's efforts to promote and preserve Palestinian culture, enhance its democratic character under challenging circumstances, and strengthen cooperation between the Palestinian Museum and French museums.

The awarding ceremony was held at the Palestinian Museum in Birzeit, in the presence of officials and figures from the Palestinian cultural and academic fields, including Hanna Nasir, PhD, Chairperson of the Birzeit University Board of Trustees; members of the Board of Directors of the Palestinian Museum N. G.; friends of the Museum; diplomats; a delegation from the French Consulate; and Museum and Taawon staff.

Adila Laïdi-Hanieh, PhD, has been Director General of the Palestinian Museum since September 2018.  She is a writer and academic focusing on Palestinian culture, modern Arab intellectual history, and cultural spaces and processes. She received her PhD in Cultural Studies from George Mason University and a Master's degree in Arab Studies from Georgetown University. Her academic work encompasses critical theory, aesthetics, ideology theory, and postcolonial studies, including research completed during a postdoctoral fellowship from the Arab Council for the Social Sciences.

Laïdi-Hanieh taught in the Philosophy and Cultural Studies Department and at the Fine Arts Programme at Birzeit University from 2006 until 2008. She was the founding director of the Khalil Sakakini Cultural Centre from 1996 until 2005. She has also published several books and essays, including the artist biography 'Fahrelnissa Zeid. Painter of Inner Worlds' in 2017 and 'Palestine. Rien ne nous manque ici' (Palestine. We lack for nothing here) in 2008 published by the Université Libre de Bruxelles.

The Palestinian Museum-Non-Governmental Association is an independent cultural NGO dedicated to supporting an open and vibrant Palestinian culture locally and internationally. The museum presents and contributes to new narratives on Palestinian history, culture, and society from a new perspective. It also offers spaces for creative ventures, educational programmes, and innovative research. It is one of the most significant cultural projects in Palestine.